Pizza dough is best prepared the day before, it should be left in the refrigerator for at least 12 hours. If you really only bake a pizza from it, use carbonated water when mixing the yeast, the pizza will be more crispy.
How to make pizza dough
You will need 1 kg of plain flour, 2 tablespoons of virgin olive oil, a cube of yeast, about half a liter of lukewarm water and salt.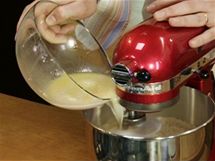 Crumble the yeast into a bowl, add lukewarm water, two tablespoons of olive oil and a pinch of salt and mix. Add the yeast mixture to the plain flour in a bowl and make a dry but pliable, non-sticky dough. You can also use an electric mixer such as Emanuele.
Divide the finished dough into four quarter-kilogram loaves, wrap them in foil and let them rest in the refrigerator for at least 12 hours. If you want to use half of the dough to prepare salty puff pastry with cheese, leave two loaves to rest in a warm place for two hours.
You can bake a pizza in half a day
Emanuele bakes pizza at home on a classic rectangular baking tray, which is reportedly done in many restaurants in Italy. He prepares the whole as a Margherita with mozzarella and basil for children, but adds six anchovies to the half as a Napoletana, which is loved by adults.
To do the same, prepare 300 g of canned pelate, 300 g of mozzarella, a few basil leaves, 6 anchovies, sugar, salt and virgin olive oil. Blend the tomatoes in a bowl and season them with a pinch of salt, a spoonful of olive oil and a spoonful of sugar.
Grease a baking sheet with olive oil. First, press the rested dough on the cutting board into a rectangle from the side, then transfer it to the baking sheet and stretch it with your fingers to the edges of the greased baking sheet.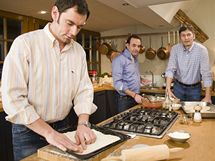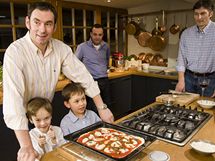 Spread the dough with the prepared tomato mixture, decorate with mozzarella slices and basil leaves. Add anchovy fillets to one half.
Pour olive oil over everything and bake in a heated oven at the highest temperature. You have to check the baking time, it depends on the characteristics of the oven. In any case, the edges of the dough must be baked until golden brown.
Salty puff pastry with cheese or focaccia al formaggio
If you already have prepared pizza dough, leave one loaf to rest in a warm place for at least two hours (250 g), otherwise prepare the same dough as for pizza (see the pizza recipe and introductory video) and let it rest in a warm place for two hours.
You will also need 150 g of smooth flour for sprinkling the dough and ingredients for the mixture that you will knead into the rested pizza dough, i.e. 120 g of pecorino cheese or other softer sheep's cheese, 80 g of Parmesan cheese, 3 whole eggs, 2 egg yolks, about 100 ml of virgin olive oil, salt and grease for cleaning the mold.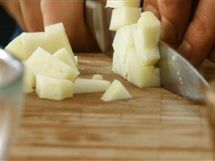 Beat three whole eggs and two egg yolks in a bowl, add pecorino cheese cut into cubes, grated Parmesan and olive oil.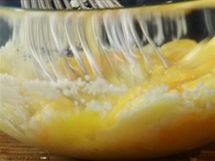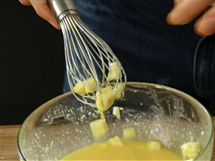 Mix everything well, only the pieces of pecorino remain whole.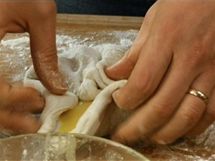 Gradually combine the mixture with the aged pizza dough and add the flour until you get a pliable dough. Leave a little of the whipped mixture aside for spreading, i.e. without the pecorino pieces.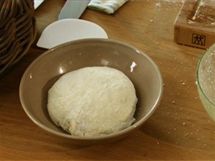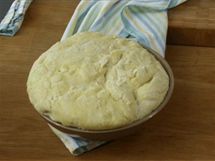 Make a bun from the prepared dough, sprinkle with flour, put in a bowl, cover with a towel and leave in a warm place for another 2 hours. It will double in size soon.
Then prepare a stainless steel pot or cake pan, but expect the focaccia to rise a lot. Grease the pan with good lard, put the risen dough from the pan into the mold, coat it with the rest of the egg mixture and bake for an hour in a preheated oven at 180°C.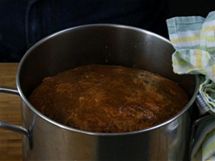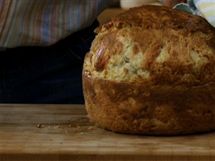 Then use a knife to remove the cake from the sides of the pot, turn it over and cut it into pieces. Serve the focaccia still warm, it's perfect with Parma ham.
If you don't miss the last holiday rerun of S Italem v kučín na Prima tonight at six o'clock, you will find out where, according to Emanuel, they make the best pizza in Prague, because they have the right oven for it, made right in Naples. Since it is heated to 500 degrees, it bakes a crispy pizza in one minute and ten seconds.
Of course, you can't bake such a pizza at home, but you can still learn from Emanuel how to make an excellent homemade Margherita and Napoletana (see both videos in this article). In addition, the Italian chef adds a recipe for chickpea cream with pasta (pasta e ceci) and a rice dessert (frittelle di riso).